Hello, guys this is my own art shop here you can request everything you wish. Look at these lists:
What can i
do:
-Photomanips
-Drawings
-Moving text( by using the BB code here)
-Glowing text (glotxt.com/)
-Pictures made by symbols
What i cannot do, but it is my goal:
- Video edittion
- Animation
- Video game making (Ok this isn't art but it is my goal so...)
Examples:
I'm to lazy to post photomaips so look at my dA account for examples.
[You must be registered and logged in to see this link.]
Text examples:
۞Karsy۞
And others like it. A glowtext example look at the text up at your rank.
Request Forms:
Code:

Name:
Gender:
Age:
Kind of art (Manip, text, drawing ect.):
Markings:
Text color (If you requested text):
Preference or describtion (For manips and drawings):
Secret Word:

~Rules
Don't steal other ones artwork
Don't ask when will it be done. I will o it when i have time. Usually manips take mins.
Don't use rude words or something againts the pack rules.
If you don't like it say me. I will fix it anytime.
Give my art work a credit.
Enjoy them.
Use them only here. You can ask me if you want to use it on other sites.
Slots
1.
2.
3.
4.
5.
6.
7.
8.
9.
10.
11.
_________________
▪☼"*Sun Blaze Pack▪☼"*
Come join us!
-Karsy- proud to be a -Sun-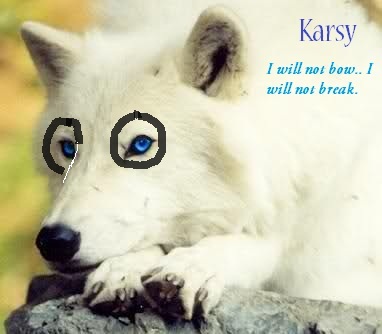 By Pheonix.