Name:Karsy
Gender:female
Age:3 years and half
Pelt color:White
Markings:Black liners around eyes and black paws.
Scars:None
Personality:Little bit aggressive but friendly and helpful
Eye color:Blue
Histrory:It's not long really.Karsy was born in a aggressive and dominant pack.She was banned when was one year old.From then i growl up as a loner till i came to this wonderful pack.
Likes:To hunt and fight a bit and exploring around.
Dislakes:Hmm well...to be patiet just can't wait (I'm ready for all)
Where born:In Yellostone park
Skills:fighting,hunting,exploring,swiming,chasing
Family:Father-Damis; Mother-Daimond; brother-Dream
Mate:None yet.
Pups:None yet.

_________________
☼"*Sun Blaze Pack
☼"*
Come join us!
-Karsy-
proud to be a
-Sun-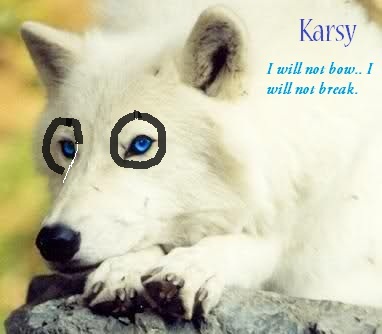 By Pheonix.